PURE CYCLING MULTIPLIED BY X
Inspired by riders who enjoy long days in the saddle, the DOGMA X is about more than just performance; the bike has been engineered from the ground up to heighten the emotional experience of cycling and reshape how we think about endurance and speed.
It will redefine how we think about performance, offering real-world comfort.
CARBON
T1100 1K
High tensile and high modulus carbon fiber with patented Nanoalloy Technology for extreme performances. 
 
ENDURANCE 
GEOMETRY
A brand new approach that strikes the perfect balance between high-calibre performance and real-world comfort.
X STAYS
A new Pinarello technology capable of absorbing vibrations maintaining a light weight frame and a very reactive BB stiffness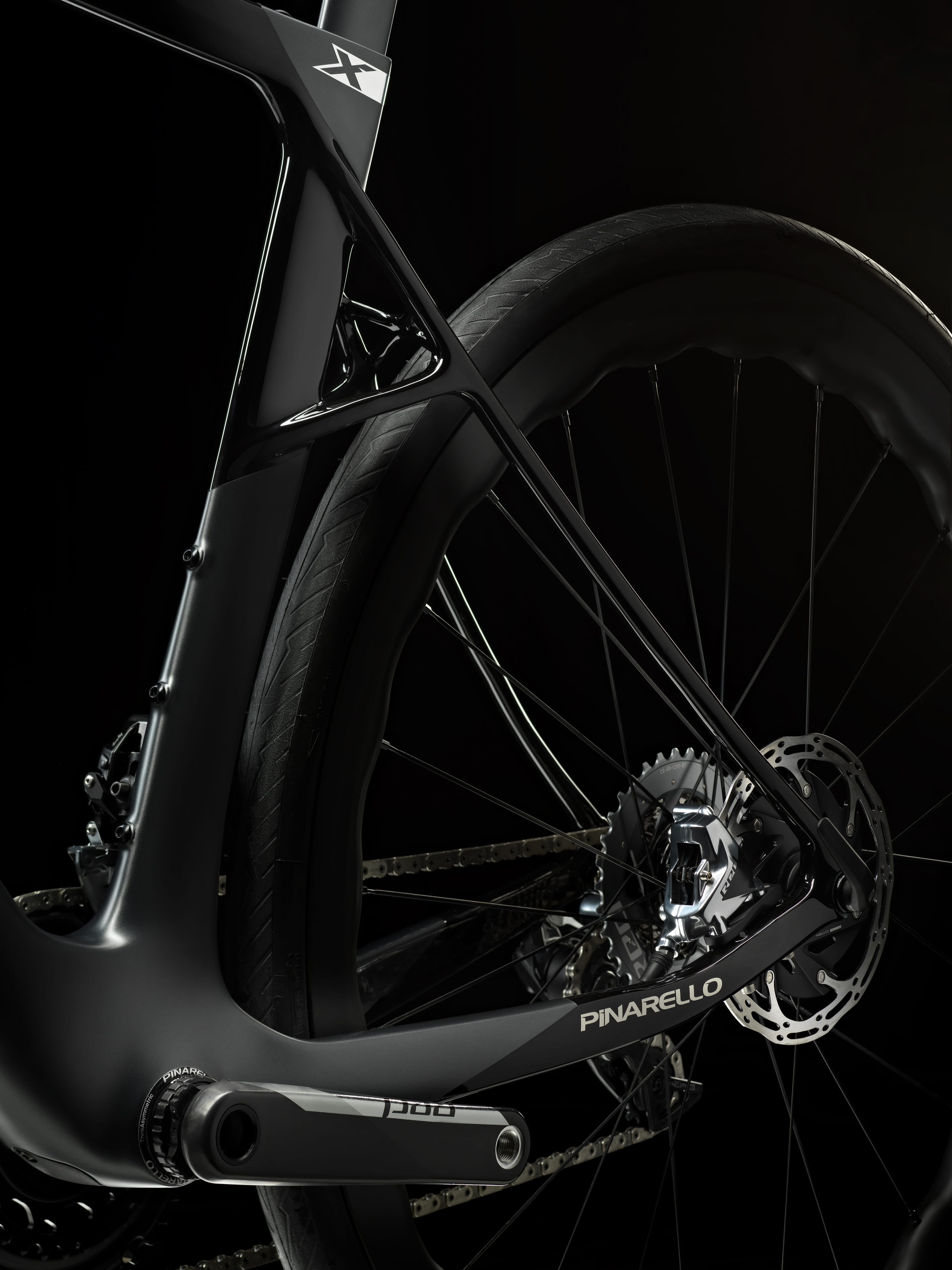 ASYMMETRIC FRAME
PINARELLO X
For first Pinarello understood that, while the thrust applied to both pedals is the same, the pull on the chain applies to the right side only. For this reason, all frames are optimized to compensate these unbalanced forces.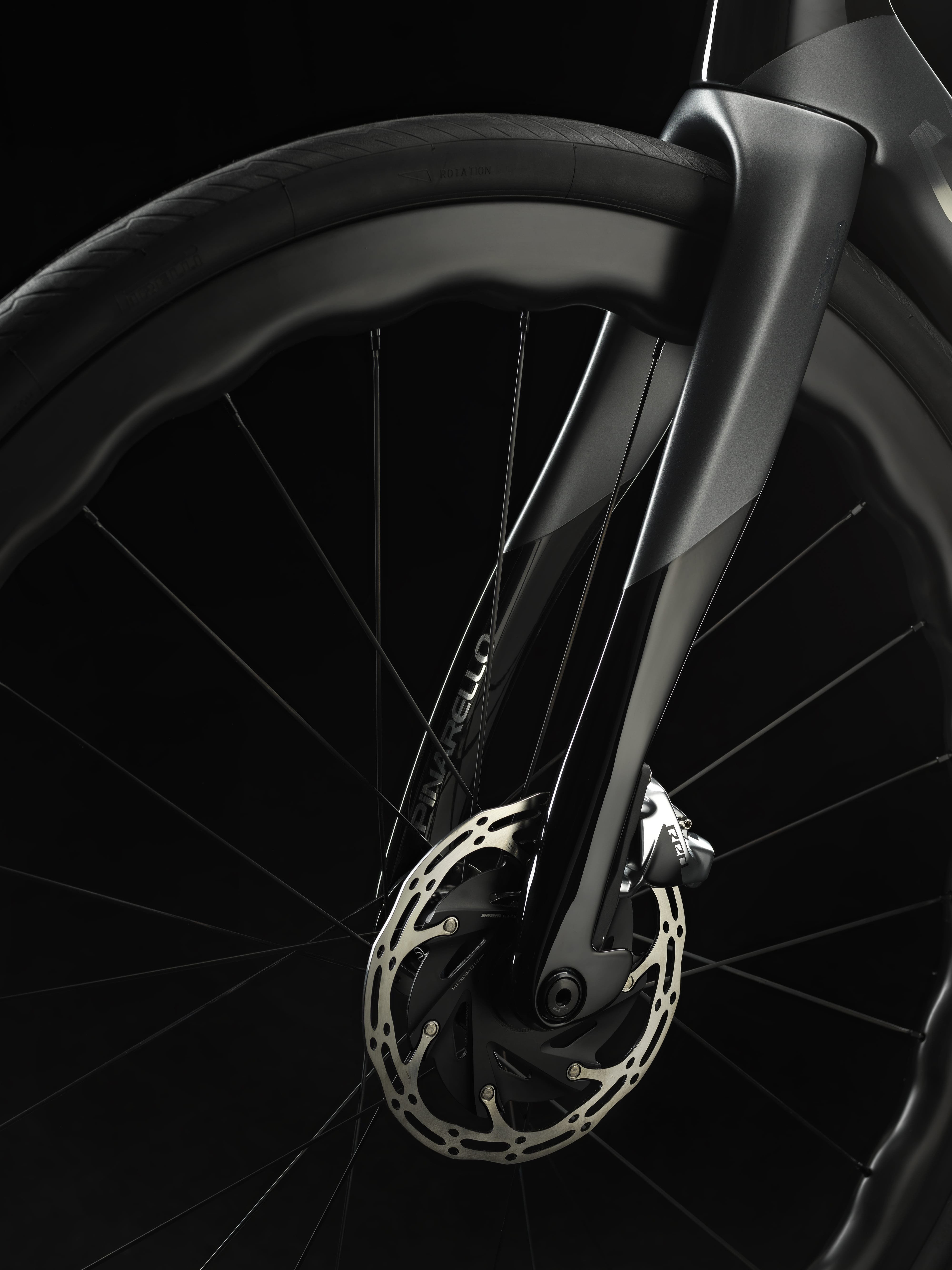 TYRE CLEARANCE
UP TO 35MM
35mm tires to unlock the frames' true potential in terms of both comfort and speed.
GEOMETRIES
| CE | CC | L | A [°] | B [°] | P | T | D | R | G | REACH | STACK |
| --- | --- | --- | --- | --- | --- | --- | --- | --- | --- | --- | --- |
| 425 | 430 | 492 | 75.25 | 70 | 422 | 123 | 67 | 52 | 375 | 341.9 | 527.5 |
| 450 | 460 | 509 | 74.5 | 70.5 | 422 | 128 | 72 | 52 | 375 | 352.1 | 539.2 |
| 470 | 490 | 525 | 74 | 71 | 422 | 140 | 72 | 52 | 375 | 361.9 | 552.4 |
| 495 | 515 | 536 | 73.75 | 71.5 | 422 | 149 | 72 | 47 | 375 | 368.5 | 564.4 |
| 510 | 530 | 545 | 73.5 | 72 | 422 | 159 | 72 | 47 | 375 | 372.5 | 575.8 |
| 525 | 545 | 555 | 73.25 | 72.25 | 422 | 171 | 72 | 47 | 375 | 376.7 | 588.2 |
| 540 | 560 | 565 | 73 | 72.5 | 422 | 185 | 72 | 47 | 375 | 380.2 | 602.4 |
| 560 | 580 | 577 | 72.75 | 72.5 | 422 | 209 | 67 | 47 | 375 | 384.1 | 620.3 |
| 590 | 600 | 590 | 72.5 | 72.5 | 422 | 230 | 67 | 47 | 375 | 388.1 | 640.4 |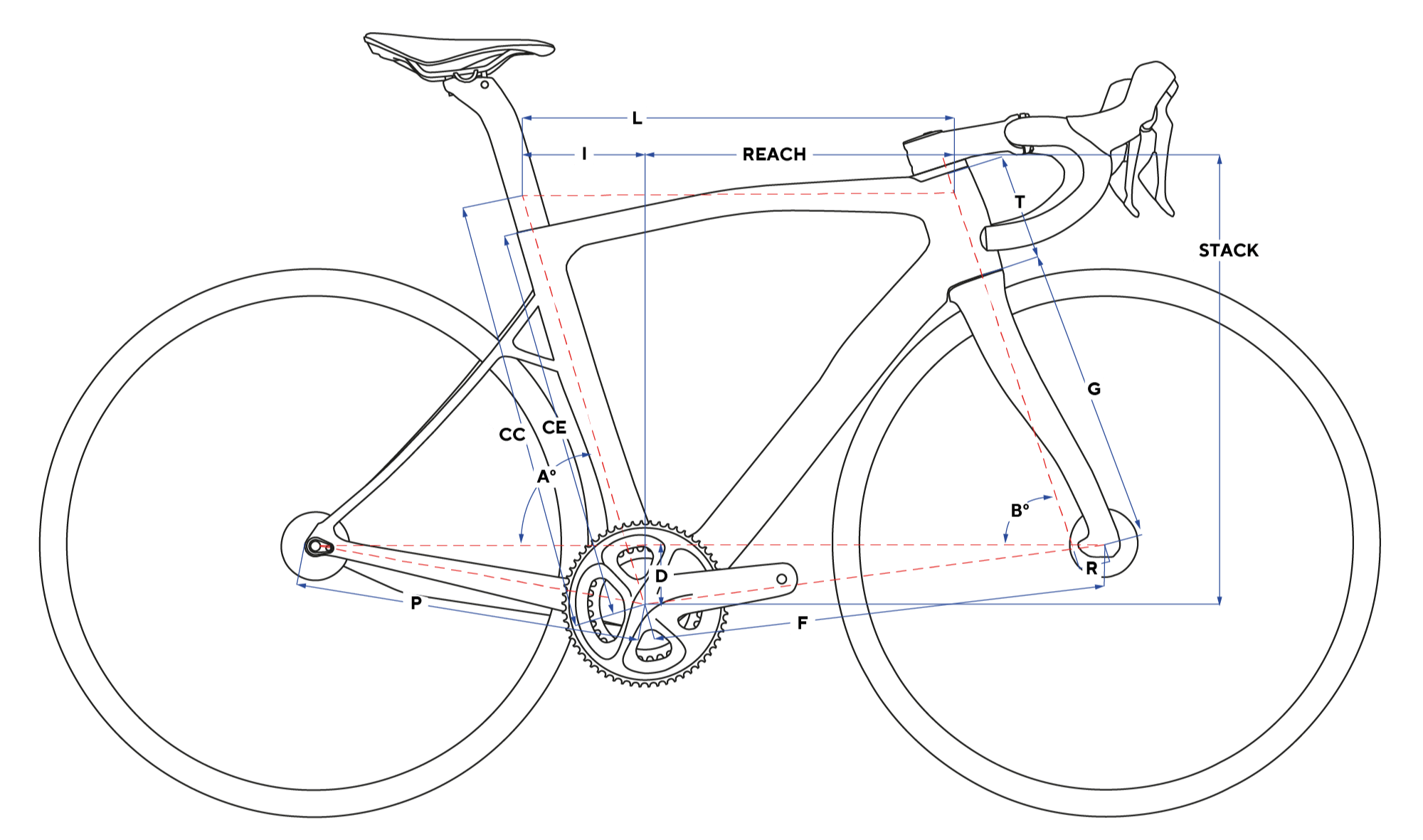 CE: SEAT TUBE CENTER - END, CC: SEAT TUBE CENTER - CENTER, L: TOP TUBE CENTER - CENTER, A[°]: SEAT TUBE ANGLE, B[°]: HEADTUBE ANGLE, P: CHAINSTAY, T: HEADTUBE, D: BB DROP, R: FORK RAKE , G: FORK HEIGHT, REACH, STACK
ALL COMPONENTS
FRAME SET
FRAME
TorayCa T1100 1K Dream Carbon with Nanoalloy technology, internal cable routing, Italian BB, UCI approved
DRIVETRAIN
CRANKSET AND CHAINRINGS
Shimano Dura Ace Di2 RD-R9200 12s
FRONT DERAILLEUR
Shimano Dura Ace Di2 FD-9200 11S
REAR DERAILLEUR
Shimano Dura Ace Di2 RD-R9200 12s
CASSETTE
Shimano Dura Ace CS-R9200 12S
CHAIN
Shimano Dura Ace CN-HG 12S
BOTTOM BRACKET
Shimano Dura Ace SM-BB9200
BRAKES
FRONT BRAKE DISC
Dura Ace BR-R9200, 2 pistons caliper, 160mm rotor
REAR BRAKE DISC
Dura Ace BR-R9200, 2 pistons caliper, 140mm rotor
COCKPIT
INTEGRATED HANDLEBAR
MOST Talon Ultra Light
SADDLE
Most Lynx Ultrafast Superflow L Carbon Large 145mm
SEATPOST
Pinarello Aero seatpost with 3D printed titanium top seatclamp and bolts
SEAT CLAMP
Seatclamp Twinforce, titanium bolts
WHEELS AND TIRES
TYRES DISC
Pirelli P ZERO Race TLR 35-622
WHEELSET DISC
PRINCETON GRIT 4540 DB
AXLES DISC
Ultra Light Custom Axle 12x100 & 12x142, tool free removal
ACCESSORIES AND NOTES
BOTTLES AND BOTTLE CAGES
Bottlecage Trap PACF ø 74mm, Fly Bottle Pinarello Bottle 550ml Black
* also available with DTSWISS ERC1400