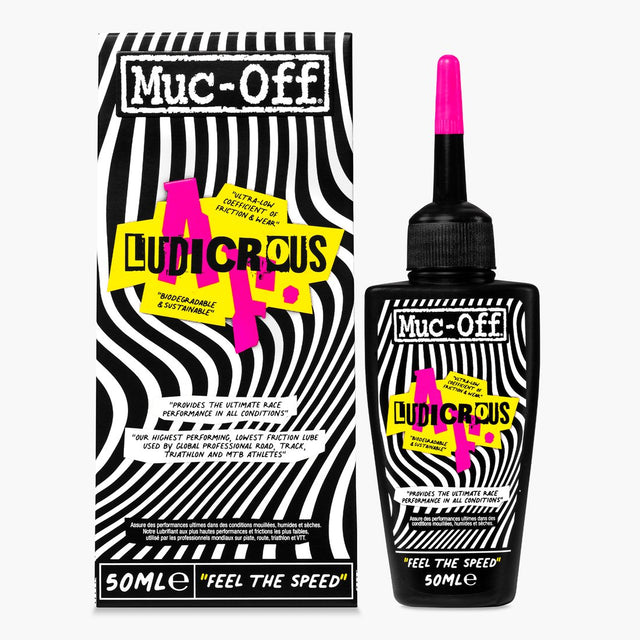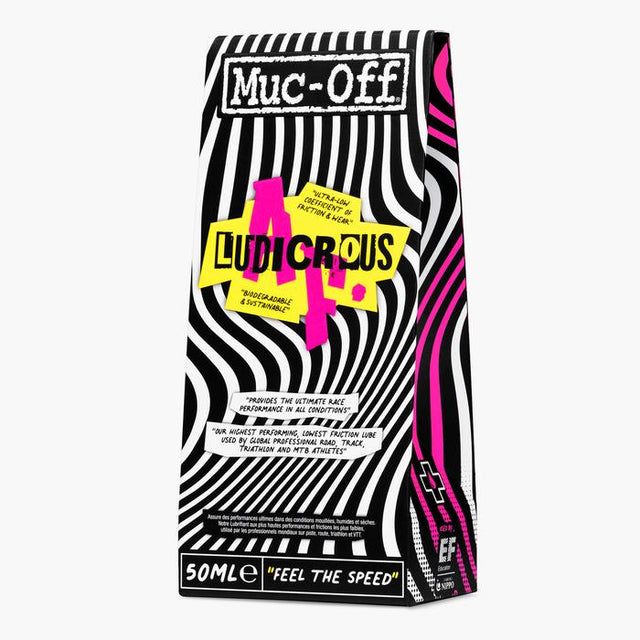 This one's for the speed freaks. Say hello to the world's fastest race lube – Ludicrous AF. It's pure drivetrain dynamite!
This badass bottle of liquid magic has been in the works with our lab boffins for over three years. The result is a category-leading piece of exceptional science that marries unrivalled speed with sustainability, through cutting-edge research and innovation.
It's the F1 car of bike lubes – stripped back to the bare essentials. That means no colouring, no fragrance, no additional corrosion inhibitor, just a unique blend of renewable and readily biodegradable ingredients designed to minimise chain friction and wear, whilst maximising performance in all conditions. This all means one thing – RAW SPEED!
With an ultra-viscous formula that makes its way into every contact point of your chain, smoothness and silence is guaranteed. So when you're chasing the competition you can shift with the confidence that you're using the best around.
Developed in secret over a number of years by Muc-Off's in-house R&D Team, tested with INEOS Grenadiers, EF Education-NIPPO, BMC Pro Triathlon, Canyon//SRAM, plus other professional teams and athletes, Ludicrous AF takes drivetrain performance to a whole new level. Perfected throughout the 2020 Grand Tour season, with multiple podiums and overall wins at the last two Giro d'Italias, you simply won't find a faster lube!
Calling all hardcore roadies, track racers & triathletes, the game just changed
Works in temperatures down to -20°C
Pipette system for easy application
Petroleum-free formula for eco protection
Derived from renewable sources
Proprietary additives for self-lubricating capabilities
50ml bottle
The world's fastest race lube... period
Ultra-low coefficient of friction
Class-leading low wear on chain components
Super stable in all temperatures (unlike waxes)
Provides the ultimate performance in both wet and damp or dry and dusty conditions
Our highest performing, lowest friction lube used by global professional road, track, triathlon and MTB athletes
Continues to improve with chain run-in due to continued surface improvement at a molecular level
Outperforms competitor chain lubes and waxes
Used throughout 2020 & 2021 Tour de France
Biodegradable and sustainable
Prolongs the life of your chain
Super durable – re-coats friction surfaces
Synthetic polymers for long-distance performance
Great wear characteristics for incredible durability
Low noise formulation
Doesn't wax up
Fully degrease drivetrain thoroughly before lube application.
Ensure the drivetrain area is dry. For optimum results, we recommend removing your chain before or after cleaning, and drying it thoroughly in an oven, to ensure all moisture is removed before applying Ludicrous AF.
Shake the bottle vigorously and apply a moderate amount of Ludicrous AF to the inside of each chain link, whilst spinning pedals in a reverse motion. For optimum results, we recommend using an Ultrasonic Tank, to ensure total critical surface coverage.
Apply the night before your race. For optimum results, we recommend allowing as much time as possible for Ludicrous AF to work its magic.
Wipe off excess lube carefully.