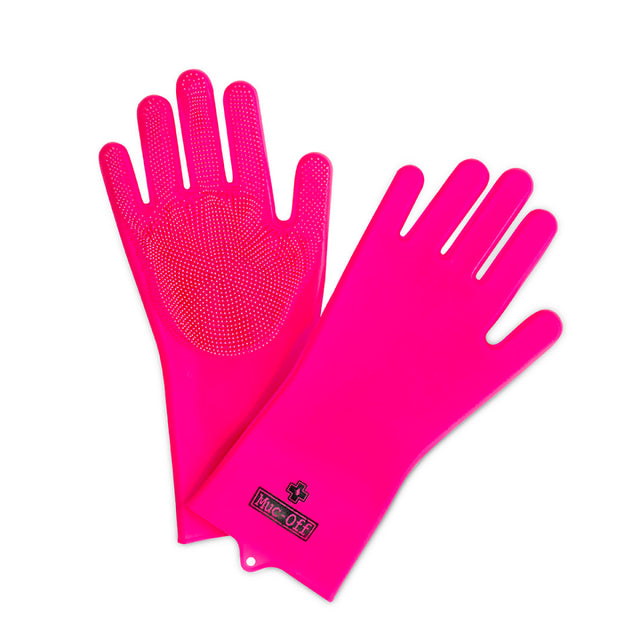 Got some hard-to-reach grime you just can't get too? Or just want to grab your bike with both hands and get down to it? Then reach for the Muc-Off Deep Scrubber Gloves, you just won't believe how fast you can get your pride and joy thoroughly clean! Made from durable and high-strength silicone, these gloves make cleaning tight spots quicker and easier than ever. With flexible bristles that cover the palm and each finger you'll be able to scrub away at grime in record time as you caress the surface rapidly with your hands. Just spray on our bike cleaner or snow foam either onto the area to be cleaned or directly onto the gloves and get scrubbing!
Reusable, waterproof silicone gloves made from durable, high strength silicone
Flexible bristles cover the whole palm and each finger making cleaning fast and easy but are also gentle enough not to damage delicate surfaces
Built in inner anti-slip surface for maximum control
Can be used on bicycles, motorcycles, cars or any powersports equipment
Heat Resistance up to 230oC. Can be used with warm water and cleaned with hot water or can be put in the dishwasher (100% dishwasher safe)
100% Food-Grade Silicone, PBA Free, Non-Corrosive, Non-Toxic, Eco-Friendly
Available in 3 sizes: S/M/L
Product Information
Product Information
Storage
Unused sealed sachets should be stored inside the box in a well-ventilated, dry place and protected from moisture, heat and direct sunlight. Can be stored for up to 3 years.
Size
Each sachet contains 30g powder.2 x 30g sachets per carton box.


Features

Makes 2x litres of bike cleaner
100% plastic free packaging
Readily biodegradable ingredients
100% water free
Refill your old bottle and help reduce plastic waste 
92% saving in packaging compared to 2 x 1L bike cleaner
100% environmentally friendly ingredients, including plant based raw materials
Supplied in a compostable sachet and printed with vegetable inks
FSC recycled card box containing 2 x sachets – that makes 2L of bike cleaner 
Safe on all parts and surfaces including carbon fibre
Will not harm seals, cables, disc brake pads or rotors
Alkaline based and free from alcohol, CFCs, EDTA, solvents or acids
Vegan & vegetarian friendlyCruelty free, not tested on animals

How To
Sachet Instructions
1. Grab your empty old bottle of Muc-Off. (You may need a pair of adjustable pliers to remove the trigger from the bottle). Or purchase our Bottle for Life.
2. Fill up to the shoulders of the bottle with 1 litre of lukewarm water for faster formula activation! 
3. Carefully cut one corner of the sachet open along the diagonal cut lines.
4. You can carefully pour the sachet straight into the top of the bottle. Or using the box, fold the inside of the lid together using the printed lines as a guide and use this as a funnel to pour the powder into your bottle. (Please see our video for full instructions on this. 
5. Screw your spray trigger back onto the top of the bottle. Ensure it's tight!
6. Shake the bottle vigorously for 30-60 seconds to activate the formula. If you notice any undissolved powder simply keep shakin' it! 
7. Go clean that filthy bike!