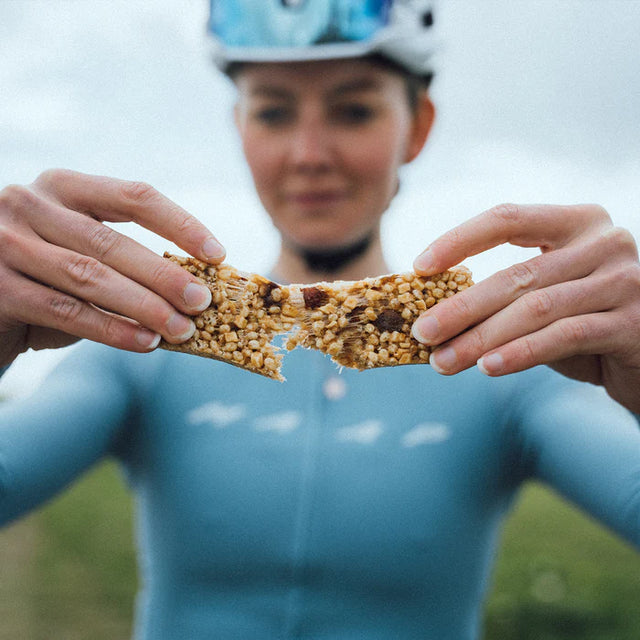 High Carb Rice Bar 
Apple pieces, cinnamon, caramel, and juicy sultanas. Bar50 is an adventure-ready, quick-release energy bar that gives you the edge by delivering maximum energy and fighting flavour fatigue on longer expeditions.
All natural ingredients & formulated specifically for quick-release energy
50g+ dual-source carbohydrates and 250+ calories per bar
High electrolyte content
Fast to digest and easy on the gut
Developed by professional sports nutritionists and tested by athletes
Certified vegan, handmade in the UK
Gluten-free
All-natural high-energy snack. Tailored for the everyday adventure-seekers.
BAR50 is a nutritionally complete, high-energy snack that contains a perfectly balanced amount of carbs, proteins, fat and fibre. Revitalising and flavourful, the BAR50 will help boost energy, combat tiredness and fight flavour fatigue on longer adventures.
Great tasting, performance ready bars
Rice cakes used to be de rigueur in the Tour de France peloton for good reason. Bar50 pays homage to those foil-wrapped snacks of old, but updates them: improved density, better texture, streamlined shape, less weight per carb ratio, more energy. When there's no food around, you'll be glad you packed your BAR50.
Taste of victory
Available in three delicious all natural flavours with zero artificial sweeteners, our brand-new energy bars take adventure snacking to a whole new level with over 50g+ of natural energy and 250kcals per product.
Not just your run of the mill energy bar.
Developed by athletes. BAR50 is a high-energy snack, with a balanced macronutrient profile, that was developed by professional sports nutritionists and tested by athletes to ensure the perfect quick-release energy bar that tastes amazing.
What goes into every Styrkr Bar50?
50g+ of carbohydrates
Perfect high-energy snack to maintain your hourly carbohydrate goals
250kcal per bar
Each bar provides over 250kcal, ideal for quick-release firepower
High electrolytes
Helps improve hydration and prevent muscle cramp
Soft, chewy and durable
A soft, chewy texture that's pleasing to eat, but dense enough to pack a powerful punch
Fast, light and natural
Created using puffed rice and all natural ingredients, BAR50 is fast to digest and easy on the gut
Vegan and gluten-free
Vegan society registered and gluten-free, so you never have to compromise your regime.
Nutritional information
Ingredients