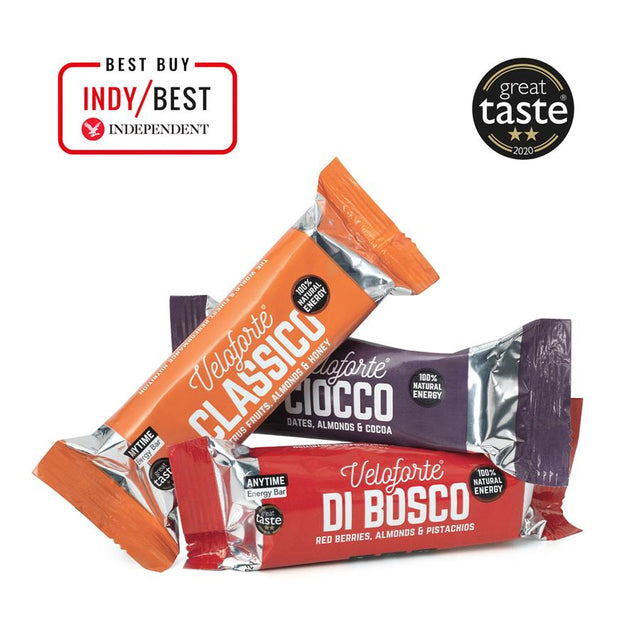 Get the right nutrition before, during & after sustained exercise 
100% Natural multi-award winning recipes

Energy bars with essential proteins for all-day fuelling & recovery

Rich in dual-source carbohydrates to keep energy balanced & sustained

Handmade in the UK using the finest natural ingredients

Certified Gluten Free

No sulphites, additives, preservatives, artificial sweeteners, colourings or flavourings - free from any nasties!
Endurance sport puts unique demands on the body, so getting the right nutrition before, during & after is essential. The 3 bars within this pack are designed to provide the optimal balance of carbohydrates (natural sugars), alongside essential proteins & fibre to fuel you further & longer (13).
Rich with citrus, chocolate & berries, this pack will help you beat flavour fatigue as well as your PB.... #fuelbetter all day.
NUTRITIONAL VALUE
3 different flavours:
Classico
Fresh, powerful and incredibly delicious... designed to keep you going all-day. An exceptional mix of citrus fruits, nuts & spices, offering balanced and sustained energy.
Ciocco
Brilliant for endurance and recovery too. It's deep, rich & powerful. Crammed full of chewy dates, crunchy almonds and enriching cocoa.
Di Bosco
Plucked straight from the forest it's crammed full of red berries, almonds, pistachios, rosemary and more. Superb & energy rich endurance nutrition - as delicious as nature can be.
To help avoid waste we use recyclable packing materials and ship orders with the minimum packaging. Therefore, multi-box orders may be consolidated into a single box so please let us know in the Order Notes window if you'd like yours to remain as a multi-box order.
Veloforte Classico
Citrus Fruits, Almonds & Honey

| | | |
| --- | --- | --- |
| Typical Values: | Per 100g | Per Bar 62g |
| Energy kJ/KCal | 1767/420 | 1096/260 |
| Total Fat (g) | 12.3 | 7.6 |
| Of Which Saturates (g) | 1.0 | 0.7 |
| Carbohydrates (g) | 64 | 39.7 |
| Of Which Sugars (g) | 52.3 | 32.4 |
| Fibre (g) | 4.8 | 3.0 |
| Protein (g) | 8 | 5.0 |
| Salt (g) | <0.1 | <0.1 |
Veloforte Ciocco
Dates, Almonds & Cocoa

| | | |
| --- | --- | --- |
| Typical Values: | Per 100g | Per Bar 62g |
| Energy kJ/KCal | 1668/396 | 1034/245 |
| Total Fat (g) | 12.6 | 7.8 |
| Of Which Saturates (g) | 1.3 | 0.8 |
| Carbohydrates (g) | 63.7 | 39.5 |
| Of Which Sugars (g) | 54.7 | 33.9 |
| Fibre (g) | 6.3 | 3.9 |
| Protein (g) | 8.5 | 5.3 |
| Salt (g) | <0.1 | <0.1 |
Veloforte Di Bosco
Red Berries, Almonds & Pistachios

| | | |
| --- | --- | --- |
| Typical Values: | Per 100g | Per Bar 62g |
| Energy kJ/KCal | 1682/401 | 1043/249 |
| Total Fat (g) | 13.8 | 8.6 |
| Of Which Saturates (g) | 1.3 | 0.8 |
| Carbohydrates (g) | 65 | 40.3 |
| Of Which Sugars (g) | 49 | 30.4 |
| Fibre (g) | 8 | 5 |
| Protein (g) | 8.2 | 5.1 |
| Salt (g) | <0.1 | <0.1 |