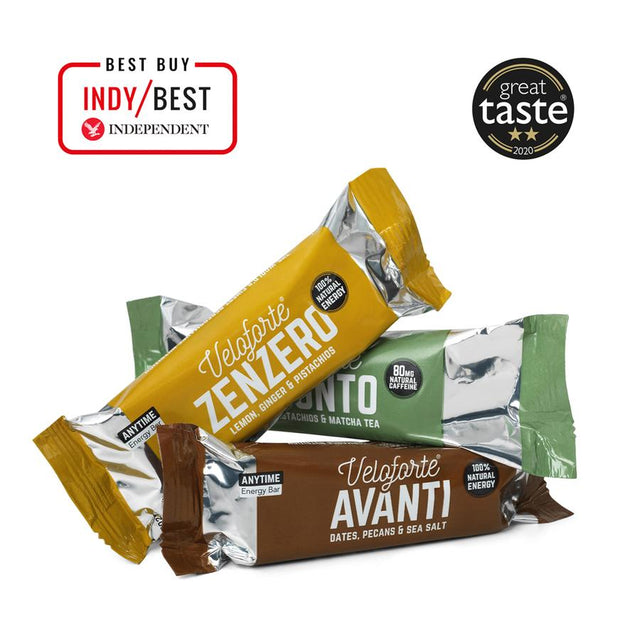 Exceptional plant-based bars to keep your energy sustained all-day long
100% Natural multi-award winning recipes

Energy bars & Protein bars for all-day fuelling & recovery

Natural Caffeine, Electrolytes & Ginger recipes

Rich in dual-source carbohydrates to keep energy balanced & sustained

Handmade in the UK using the finest natural ingredients

Certified Gluten Free, Vegan

No sulphites, additives, preservatives, artificial sweeteners, colourings or flavourings - free from any nasties!
Get the nutrition you need, when you need it. This mix of salted, caffeine & ginger options provide exceptional plant-based energy. Specifically designed to provide the optimal balance of carbohydrates (natural sugars), alongside essential proteins & fibre... They're the perfect real-food for endurance sport
Each Plant Power Pack contains one of each of our vegan bars...
AVANTI

Satisfyingly salted. Packed full of juicy dates, crunchy pecans, almonds & sea salt. The perfect all-day bar to keep you fuelled and replenished, helping replace lost sodium from those tougher sessions too.
PRONTO

An invigorating mix of juicy figs, crunchy pistachios & Matcha tea. The Pronto offers 80mg of Natural Caffeine (equivalent to an Espresso). Designed specifically to improve alertness & concentration, enhancing your ability to work hard for longer. 
ZENZERO

Zesty lemons, crunchy almonds & pistachios with a warming hit of zingy ginger, it's the perfect bar to wake your taste buds & keep you motivated, naturally.
NUTRITIONAL VALUE
Avanti
Dates, pecans & almonds, cane sugar, brown rice syrup, gram flour, agave nectar, tapioca flour, maple syrup, spices, sea salt, wafer paper, vanilla seeds. 
Pronto
Dried fruit (figs, dates), mixed nuts (almonds, pistachios), cane sugar, brown rice syrup, gram flour, stem ginger, tapioca flour, lemon juice & zest, mixed spices, guarana powder *, matcha tea *, vanilla bean paste, wafer paper. 

*contains natural caffeine (80mg caffeine per 70g bar) Do not exceed 5/day. Not suitable for under 16s, pregnant or those breastfeeding.
Zenzero
Candied Lemon Peel, Almonds & Pistachios, Cane Sugar, Dates, Stem Ginger, Gram Flour, Brown Rice Syrup, Tapioca Flour, Spices, Lemon Juice & Zest, Wafer Paper, Vanilla seeds.
Allergens: See ingredients in bold 
Not suitable for people with nut or peanut allergies.
All Veloforte vegan bars are handmade from the finest ingredients. 

We use whole fruits and whole nuts in our products, whilst every effort is made to remove all fruit stones & nut shells, there may be the occasional fragment.
They last 12 months when stored in a cool dry place.
Veloforte Avanti
Dates, Pecans & Sea Salt

| | | |
| --- | --- | --- |
| Typical Values: | Per 100g | Per Bar 62g |
| Energy kJ/KCal | 1709/407 | 1060/252 |
| Total Fat (g) | 12.9 | 8.0 |
| Of Which Saturates (g) | 1.3 | 0.8 |
| Carbohydrates (g) | 65.3 | 40.5 |
| Of Which Sugars (g) | 45.4 | 28.1 |
| Fibre (g) | 8.0 | 5.0 |
| Protein (g) | 8.1 | 5.0 |
| Salt (g) | 0.15 | <0.1 |
| Sodium (mg) | 60.0 | 37 |
Veloforte Pronto
Figs, Pistachios & Matcha Tea
| | | |
| --- | --- | --- |
| Typical Values: | Per 100g | Per Bar 70g |
| Energy kJ/KCal | 1607/384 | 1125/269 |
| Total Fat (g) | 13.0 | 9.1 |
| Of Which Saturates (g) | 1.2 | 0.8 |
| Carbohydrates (g) | 65.4 | 45.8 |
| Of Which Sugars (g) | 43.6 | 30.5 |
| Fibre (g) | 12.6 | 8.8 |
| Protein (g) | 7.5 | 5.3 |
| Salt (g) | <0.1 | <0.1 |
| Caffeine (mg) | 114 | 80 |
Veloforte Zenzero
Lemon, Ginger & Pistachios

| | | |
| --- | --- | --- |
| Typical Values: | Per 100g | Per Bar 62g |
| Energy kJ/KCal | 1683/401 | 1043/249 |
| Total Fat (g) | 13.1 | 8.1 |
| Of Which Saturates (g) | 1.2 | 0.7 |
| Carbohydrates (g) | 59.9 | 37.1 |
| Of Which Sugars (g) | 44.7 | 27.7 |
| Fibre (g) | 5.7 | 3.5 |
| Protein (g) | 8.1 | 5.0 |
| Salt (g) | <0.1 | <0.1 |