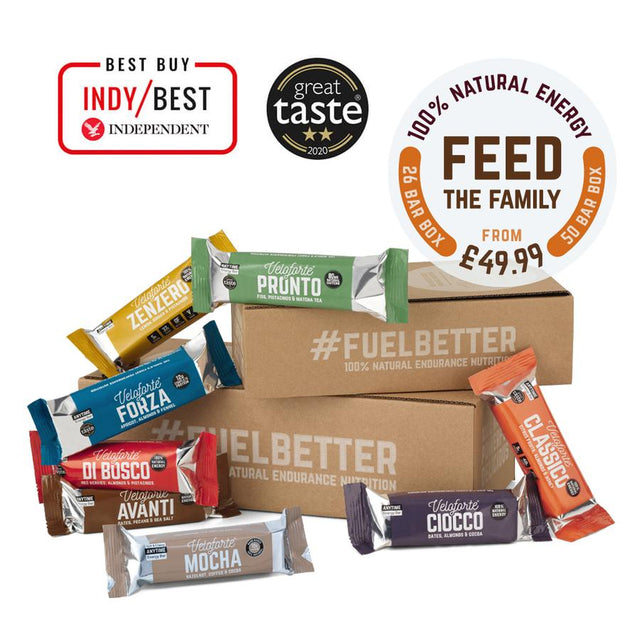 The best way to save BIG on our award-winning range of bars

100% Natural multi-award winning recipes

Energy bars & Protein bars for all-day fuelling & recovery

26 bar or 50 bar boxes

Rich in dual-source carbohydrates to keep energy balanced & sustained

Handmade in the UK using the finest natural ingredients

Certified Gluten Free

Natural year-long shelf-life

No sulphites, additives, preservatives, artificial sweeteners, colourings or flavourings - free from any nasties!
*Now including our new Mocha Bar*
These family-sized boxes have a 25% saving already included in the price. Our deliciously soft, chewy and substantial bars are packed full of the finest 100% natural wholesome ingredients. They provide a great source of energy, essential protein & fibre to help energise your health and wellbeing right across your active lifestyle.
Natural, powerful & delicious- they are great for the whole family too! Perfect to stash in your cupboard for a rainy day or last-minute healthy energy boost.
Standard or Maxi:
Standard box: A mix of 26 bars

4 each of Avanti, Ciocco, Classico, Mocha & Zenzero
3 Di Bosco
3 Forza 
Maxi box: A mix of 50 bars

9 each of Avanti, Ciocco & Classico
6 each of Zenzero & Mocha
6 Di Bosco
5 Forza
To help avoid waste we use recyclable packing materials and ship orders with the minimum packaging. Therefore, multi-box orders may be consolidated into a single box so please let us know in the Order Notes window if you'd like yours to remain as a multi-box order.
INGREDIENTS & ALLERGENS
Fit for purpose, fit for body, naturally... 
Stuffed full of the finest ingredients, our products are naturally free from gluten, dairy or any additives & preservatives… the Avanti, Zenzero, Di Bosco, Pronto & Mocha bars are all Vegan too. 

All bars contain nuts (Almonds, Pistachios, Pecans, Hazelnuts). Not suitable for people with nut or peanut allergies. 

The Pronto bar contains natural caffeine (80mg per 70g bar). Maximum 5/day. Not suitable for under 16s, pregnant or those breastfeeding.
The Forza bar contains egg white. Not suitable for those allergic to egg.
For the full list of ingredients & nutritional information per flavour, please visit here. 
Handcrafted in our London bakery, we carefully chop, blend & bake our bars using the finest optimally balanced recipes. Thanks to the dried fruit within each recipe, our bars have a natural year-long shelf life without the use of anything artificial. 
We use whole fruits and whole nuts in our products, whilst every effort is made to remove all fruit stones & nutshells, there may be the occasional fragment.
They last 12 months when stored in a cool dry place